Carpet tiles used to be a progressive flooring finish but now they are yesterday's news. Everywhere I travel, from San Francisco to New York and even right around home in Birmingham, Alabama, I see polished concrete office floors. Perhaps because they give office space an industrial and loft-like feel, they are the preferred flooring in most tech and creative company spaces.
Besides the look and feel polished concrete lends to a space, concrete floors offer several other advantages. They are easy to maintain. They are extremely durable, nearly impossible to damage with high heels, furniture legs or chair wheels and never have to be replaced due to wear and tear. And, they can be customized by staining, texturizing, etching or painting the surface.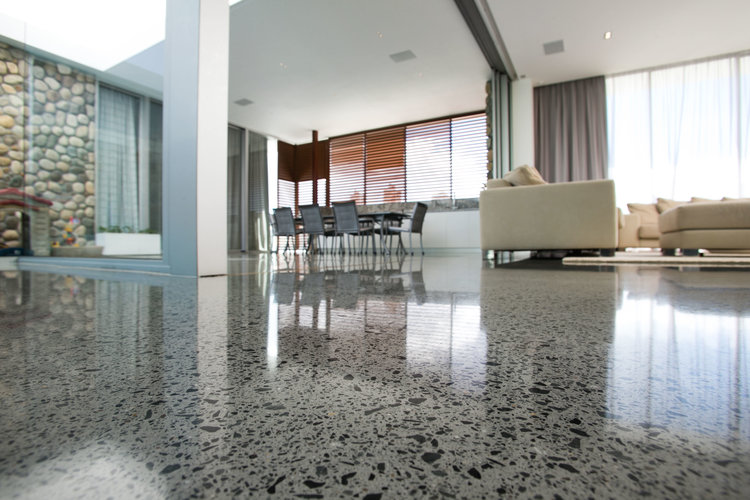 Although polished concrete is environmentally friendly because no new material is produced – existing floors are just polished — initial finishing is not a bargain. Polished concrete floors are comparable in cost to carpet tiles at ~$3.50 per square foot. However, they do not require regular carpet cleaning and, as mentioned above, do not have to be replaced when new tenants move in or space is reconfigured.
Before a client incorporates concrete floors into its space, we do advise them to consider the few drawbacks associated with them. They are hard and unforgiving when human beings slip on them or objects are dropped onto them. They can be uncomfortable to stand on for a long time. And they can be cold. One tenant, LendLease, neutralized this concern by incorporating a beautiful area rug in their lobby area that provides both visual and physical warmth to the space.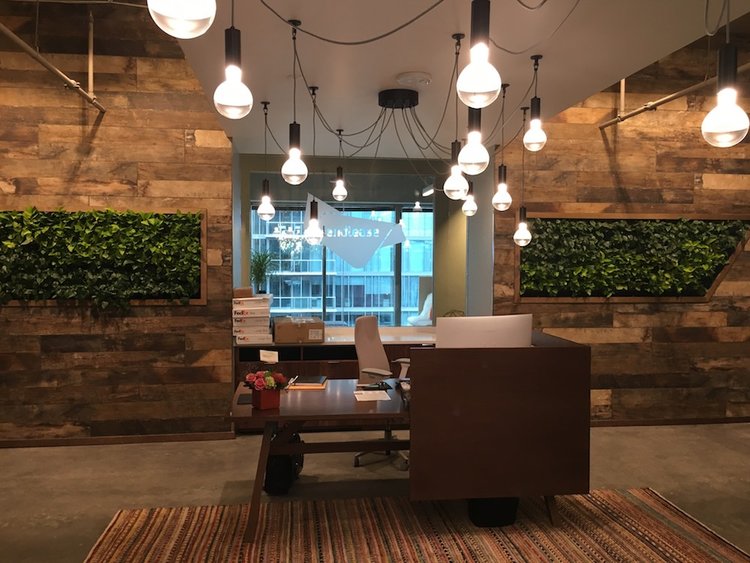 Just like concrete floors, barn doors are everywhere these days. Barn doors are the sliding door system wherein a door slides on hardware mounted above the door opening to open up or close off a space. They add instant character and style to space. They can be rustic like the heavy wood versions seen below, or clean and modern.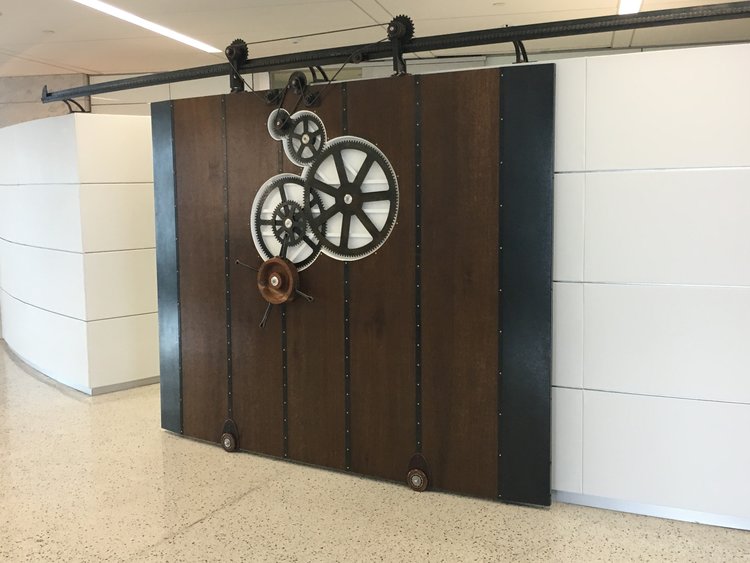 While barn doors are space saving because they do not require a specific radius for opening and closing, they do take up significant wall space. As a result, architects and designers take care to address this concern. In some instances, they are designed to serve as a piece of art or focal point. The hardware is large and pronounced and the look of the doors both open and closed is taken into consideration. Knight Eady designed theirs to look like the back fence at Wrigley Field. In other instances, the doors and hardware are designed to visually melt into the space when they are open so as to be barely visible.
Barn doors are not always a good answer as a barn door hovers over an opening but doesn't seal it completely. As such, it does not provide as much sound privacy or odor isolation. For this reason, they are rarely used to enclose loud spaces or those where food is served as food smells can permeate the rest of the space.
Barn doors and concrete floors are both fabulous finishes to add instant character to an office space. To determine whether either finish is right for your space, talk to a skilled architect or designer who can help you get the most value for your investment and avoid any associated issues. Then let your real estate broker negotiate to get the cost of these finishes included in your tenant improvement allowance.