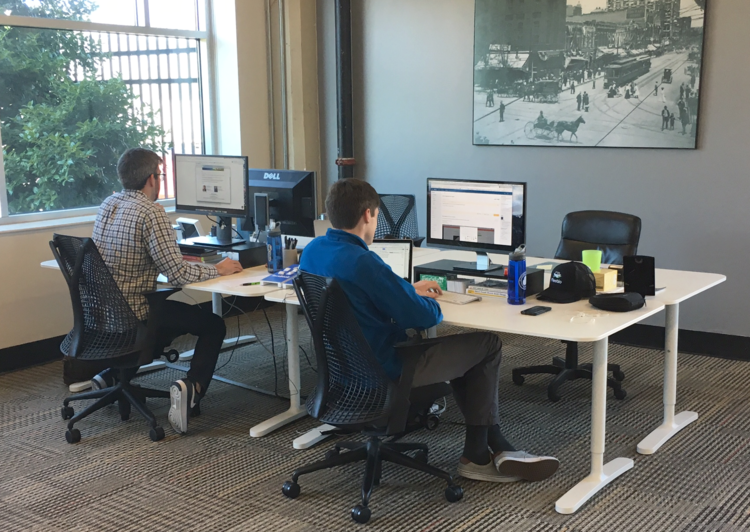 "Work Anywhere" might be the approach that keeps tech starts up in Birmingham!
I recently had the privilege of touring Fleetio's Innovation Depot space with their Director of Marketing, Lori Higdon.  For readers unfamiliar with Fleetio, they are a fast-growing Birmingham-based developer of fleet management software started in 2012.
When you walk into Fleetio's space, the clean minimalist aesthetic of their company is reflected in their space.  Fleetio occupies one of the coveted corner spaces at the Depot and as a result, the employees enjoy high ceilings and abundant windows.  Fleetio kept their space white and bare so the focus stays on natural light and open communication.
Fleetio's seating is bench style in pods of four desks with no isolating walls in between people. Because some of Fleetio's employees spend a significant amount of time on the phone, Fleetio built four small phone booth-style offices with standing desks for sound control and focused work.  Fleetio also has a conference room for larger meetings and teleconferences.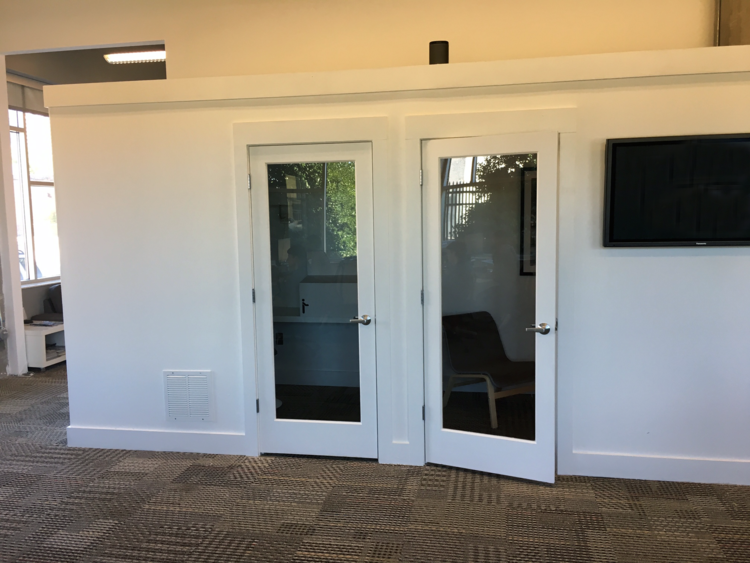 Although Fleetio now has 17 employees, not all of them work in the Birmingham office.  Five of their employees live and work elsewhere in the United States.   As a result, Fleetio's employees work and communicate via tools like Slack and Asana.  There is constant contact; just not in person.  Electronic communication is a native language to most tech industry employees so on-line communication can be as seamless and natural for them as in-person communication at a more traditional company.
This model of work is called "distributed" and it is becoming popular with tech companies, especially in markets like San Francisco where so many companies are competing for the same talent.  In Fleetio's case, they embraced this model because they love Birmingham and are committed to staying here but also want to ensure they hire the best talent possible.
Automattic, a San Francisco-based company founded by Matt Mullenweg, one of the creators of WordPress, has been a pioneer of the distributed model.  Automattic employs over 300 people in 37 countries.  They are headquartered in San Francisco but there are only twenty people in that office and Mullenweg jokes that the physical office's sole purpose is to receive subpoenas.  In Mullenweg's words, the model enables them to find "incredibly talented people…who don't want to live here".
For both Automattic and Fleetio, distributed work is not intended to be (nor is it) a cost-saving measure.  Any rent savings is offset by other expenditures.  For instance, Mullenweg's company gives its employees a $250 per month allowance for co-working space (or Starbuck's costs) and flies all employees into a different city twice a year for a grand meet-up.  Similarly, Fleetio flies all of its employees in to Birmingham twice a year for "Fleetweek", a week filled with strategy meetings, team building and fun.
I love Fleetio's hybrid model of physical space and virtual collaboration and am hopeful that similar models could help meet the talent needs of other Birmingham start-ups.
Learn more about life at Fleetio here!