"Biophilia" sounds like something one would want to avoid in the workplace, right?  Despite the unsettling moniker, that couldn't be further from the truth.  Australian property development company Lendlease recently leased a floor at 1201 Demonbreun (the coolest new building in Nashville) and Hastings Architecture incorporated biophilia into Lendlease's workspace to great success.  I had the pleasure of touring the space on a recent trip to Nashville.
What is biophilia?  It is a school of thought that suggests there is an instinctive bond between human beings and nature.  Proponents therefore encourage the incorporation of plant life into office space to assist workers with psychological restoration.  Studies have confirmed that utilizing design elements that encourage a direct connection with nature can help employees mentally recover and maintain positive well-being.[1]  In addition, biophilia is a requirement for certification as a WELL building space under the International Well Building Institute program, a certification that Lendlease is currently in the process of obtaining.  When Lendlease completes this process, they will occupy the first WELL building space in Tennessee.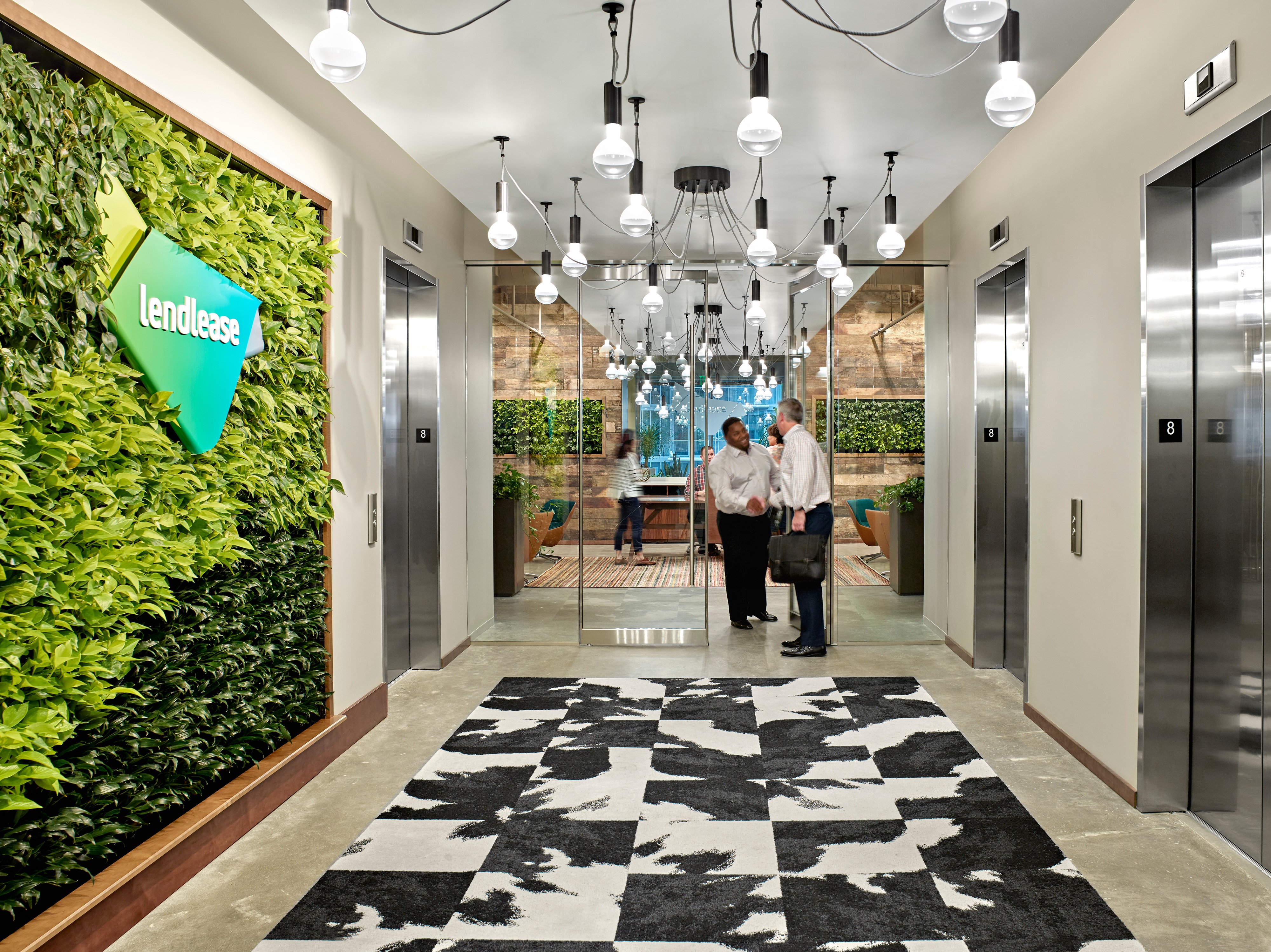 At Lendlease, biophilia begins in the elevator lobby with a large living wall.  Then, as you turn and enter into Lendlease's reception area, there is another living wall; this abundance of plants continues throughout the space.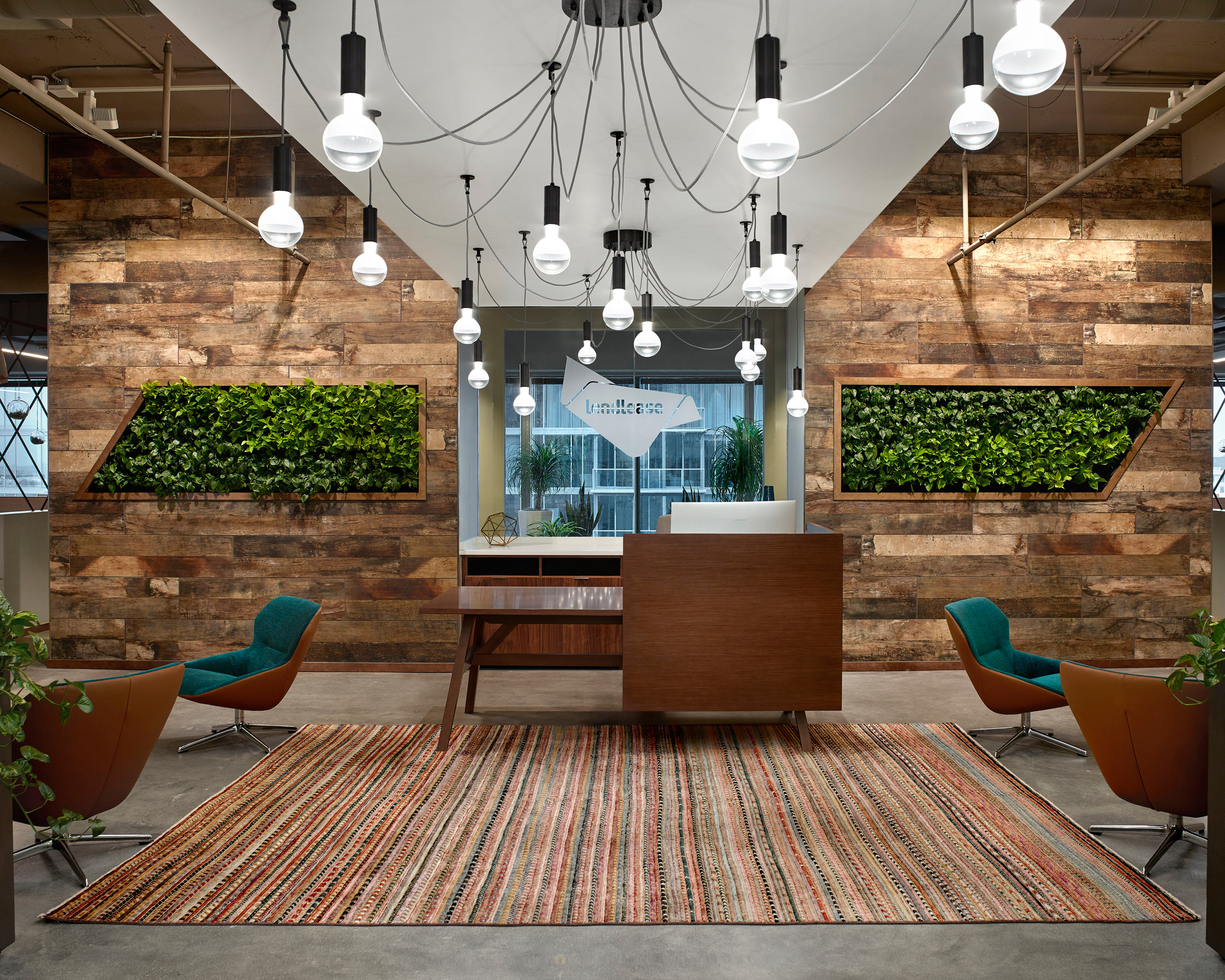 Additional warmth is brought into the Lendlease reception area with the use of reclaimed wood on the walls and wool rugs on the concrete floors.   This reception area is delineated from the main work areas by a half height wall topped with re-bar lattice so that the entire space feels open and airy.
Within the work areas, Lendlease uses a completely open benching plan.  Per Claire Johnston, Managing Director of the Nashville Lendlease office, "There are no private offices in our new space; everyone works at team tables and can choose a space based on what their day entails… if you have focused work to do, you can move to a focus area or garden. If you have a private phone call to take, we have phone booths. We have enclosed and open spaces for team meetings of all sizes… We want our employees to feel comfortable and for everyone to get up and move throughout the space during the day. It's physically and mentally healthier for all of us."
Although employees may camp out at one desk for a day or two, they are encouraged to move around and work with different people if they appear to be settling in.  Overall, Johnston says that the open free-address plan has been well received by employees.  Why?  They recognize that it allows them to be more engaged and work more collaboratively.  This sentiment was echoed by Lendlease's receptionist who told me enthusiastically, "We LOVE it here!"
"Everyone has adapted to the space beautifully and everyone is finding new and better ways to work every day – whether that be utilizing the stand-up desks, working in areas like the Den, the Social Hub, or taking walking meetings outside. We couldn't be more pleased with the outcome and are very proud to call this office 'home'," say Johnston.
Whether your office design budget is big or small, I encourage you to consider incorporating biophilia into your workspace.
[1] Human Spaces: The Global Impact of Biophilic Design in the Workplace, Interface, Professor Sir Cary Cooper and Bill Browning.