While in Chicago last week, I visited some cool new office spaces.  A highlight was the two-story space Gensler cut through the length of Latham & Watkins' new offices to create an internal "Michigan Avenue" with a two-story conference center and a double height 60 foot long glass mosaic mural of the Chicago Exposition.  Another highlight was the river view from DLA Piper's new offices.  The biggest impact, however, came from a few of the little things I saw.
The KidZone
The most innovative and brave design feature I saw was Transwestern's KidZone.  While many companies talk a big game about work/life balance and being accommodating to working parents,  Transwestern did more than talk.  They took a small space (~80 square feet) and built multi-level seating, installed a flat screen TV, commissioned a mural, and built cabinets to store toys and books.
All of this was done for the children of Transwestern employees.  Transwestern's management understands that there are times when you have to be at work for a meeting but your child has the day off school due to teacher workshops.  Or when daycare closes early but you can't leave your office yet.  And they want to make sure their employees know that their children are welcome at the office when that is the situation.  This. Is. Brilliant.
Clearly it is not ideal for parent or child to have to bring children to work.  But it happens.  And Transwestern is acknowledging this reality and empathizing with their employees and their families. If I were a recruiter for Transwestern, I would show this to every recruit I brought into the office.
If I ran a law firm – especially one of AmLaw 200 size – I would build one of these in every office.  It might even help firms maintain a gender diverse workforce.
Swag Cubbies
Transwestern does some other cool things in their space as well.  Take this swag wall in their reception area.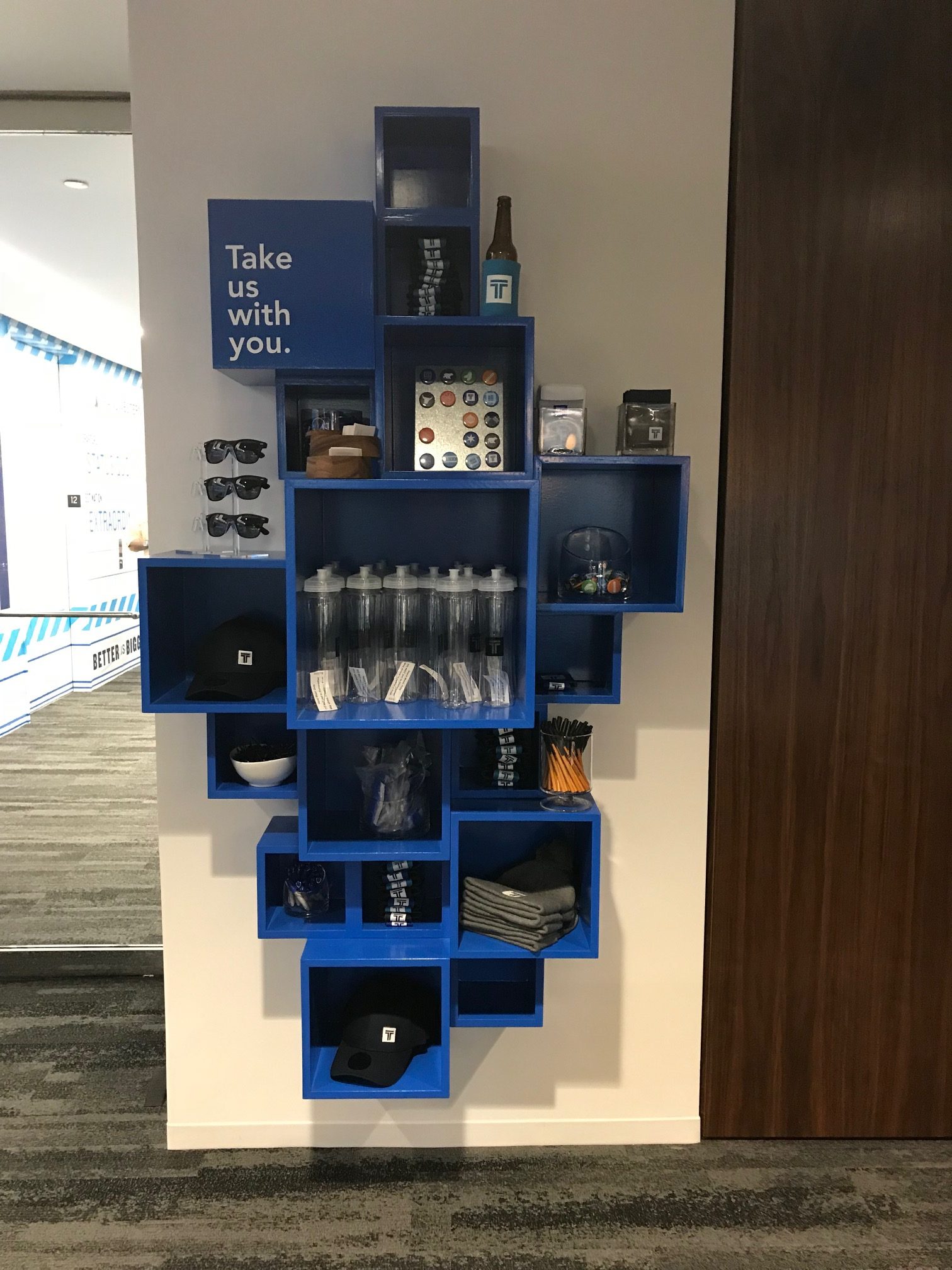 The cubbies are stocked with fun takeaways like water bottles, stocking caps, and sunglasses.  Judging from my experience with my own children, my guess is that the swag wall sees it share of kiddy raids when the KidZone is in use.
A Fireplace
Latham's space has its share of small meaningful extras along with the grandiose design features.  For instance, the employee "break room" – designed to look like a Park Hyatt lobby – includes a fireplace surrounded by soft seating.  Latham's Chicago Director of Administration Susan Wolz said she told the architects that a fireplace would draw Latham's attorneys and staffs into the space – especially in the middle of a Chicago winter.  She was right.  It's a magnet on cold days.
Water Taps
Another fun small touch: the breakroom and client hospitality areas are equipped with three prong water taps which offer sparkling, room temperature and chilled waters.  The taps are very popular and are cheaper and more environmentally responsible than individually bottled waters.
The Hidden Pool Table
Latham & Watkins is not the only law firm with little office perks in Chicago.  DLA Piper's new offices include an employee den area with a large screen TV, comfortable seating, a residential-style kitchen and bookshelves.  At one end of the space, there is a pool table cleverly disguised as a meeting table when a custom table top is set on it.  This is like the white shoe version of the ubiquitous ping pong table.  I love it!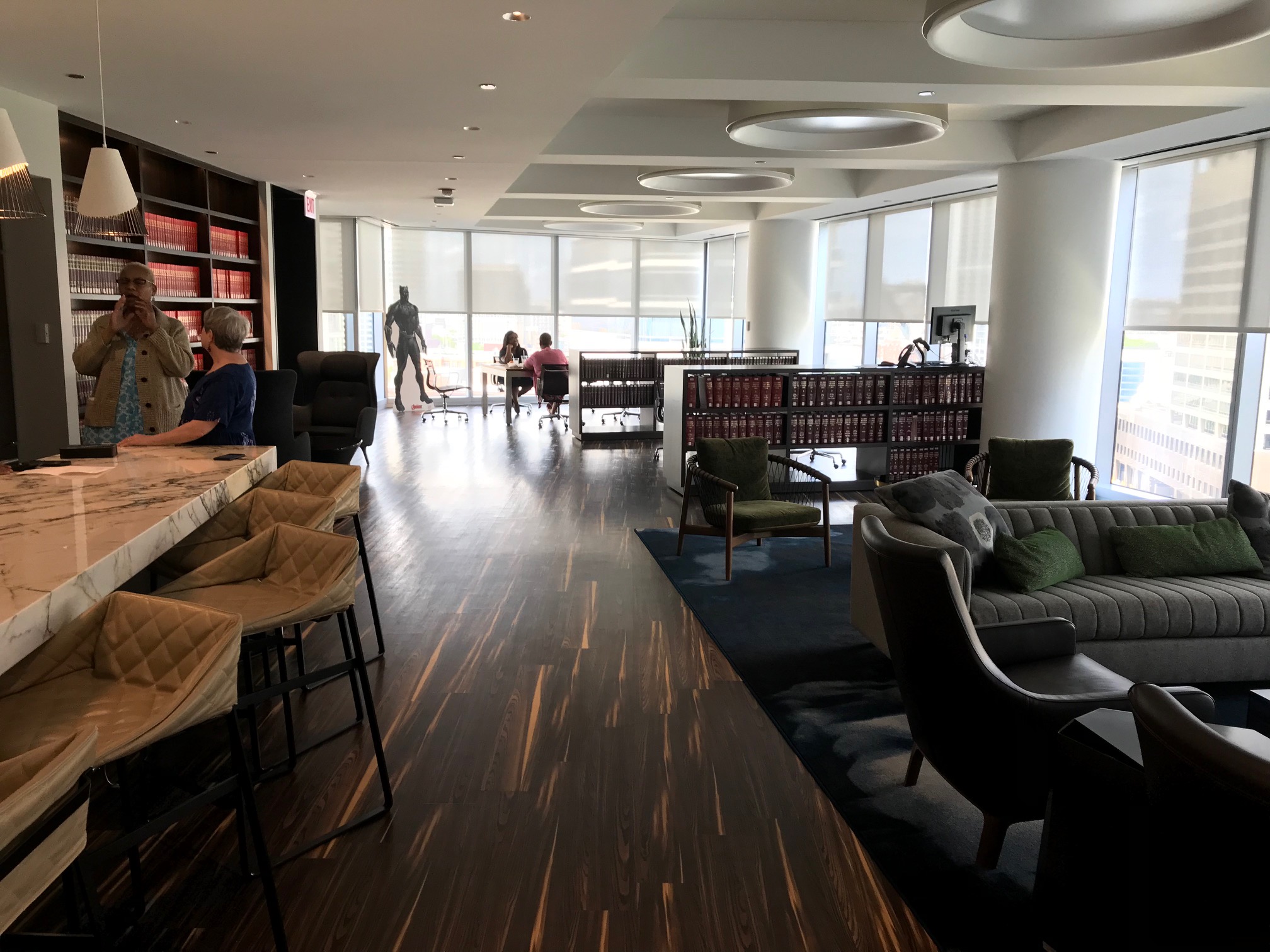 The moral of my Chicago story: little details add up.  What little step can you take to make your space better?