The Danish word "hygge," which refers to a cozy feeling, was shortlisted as the Oxford English Dictionary's Word of the Year 2016. Not surprisingly, it is making its way into commercial office meeting room design.  Conference rooms in law offices and financial services firms are morphing from pretentious and stuffy to comfortable and calming.
At Bridgeworth Financial in Birmingham, the conference room interior design was done by local residential designer, Richard Tubb, whose website states that he creates "spaces that soothe the spirit." Bridgeworth's Managing Principal, DeLynn Zell, chose Tubb for just this reason.
Per Zell, often Bridgeworth's clients are coming into the office after major life events like divorces or deaths, or to plan their estates.  These events are stress-filled in and of themselves, so it was important to Zell that the spaces where Bridgeworth's professionals met with their clients be soothing and comfortable.
As a result, the primary client conference room is furnished with soft seating to feel like an incredibly chic living room.  The rooms do include large monitors so Bridgeworth's professionals can advise their clients on their portfolios, but the room itself is less intimidating.  Zell wanted the same comfortable atmosphere in Bridgeworth's internal conference room, so it is designed like a cozy residential living room as well.
In Littler Mendelson's law offices, under the direction of Gensler Architects, they are building conference rooms that they call "living rooms" as well.  These smaller conference rooms are often used to prepare witnesses for depositions as they are not as imposing as the typical law firm board rooms.  Per Littler's management, these conference rooms are universally the firm's most popular.  (More on Littler's San Francisco office here and here.)
At Balch & Bingham's Birmingham headquarters, there are several small "Caucus" rooms on the firm's conference floor.  These rooms each contain four comfortable chairs positioned conducive to informal conversation.  They can be used for settlement negotiations, deposition preparation or client consultations.  Regardless, the vibe is considerably more relaxed.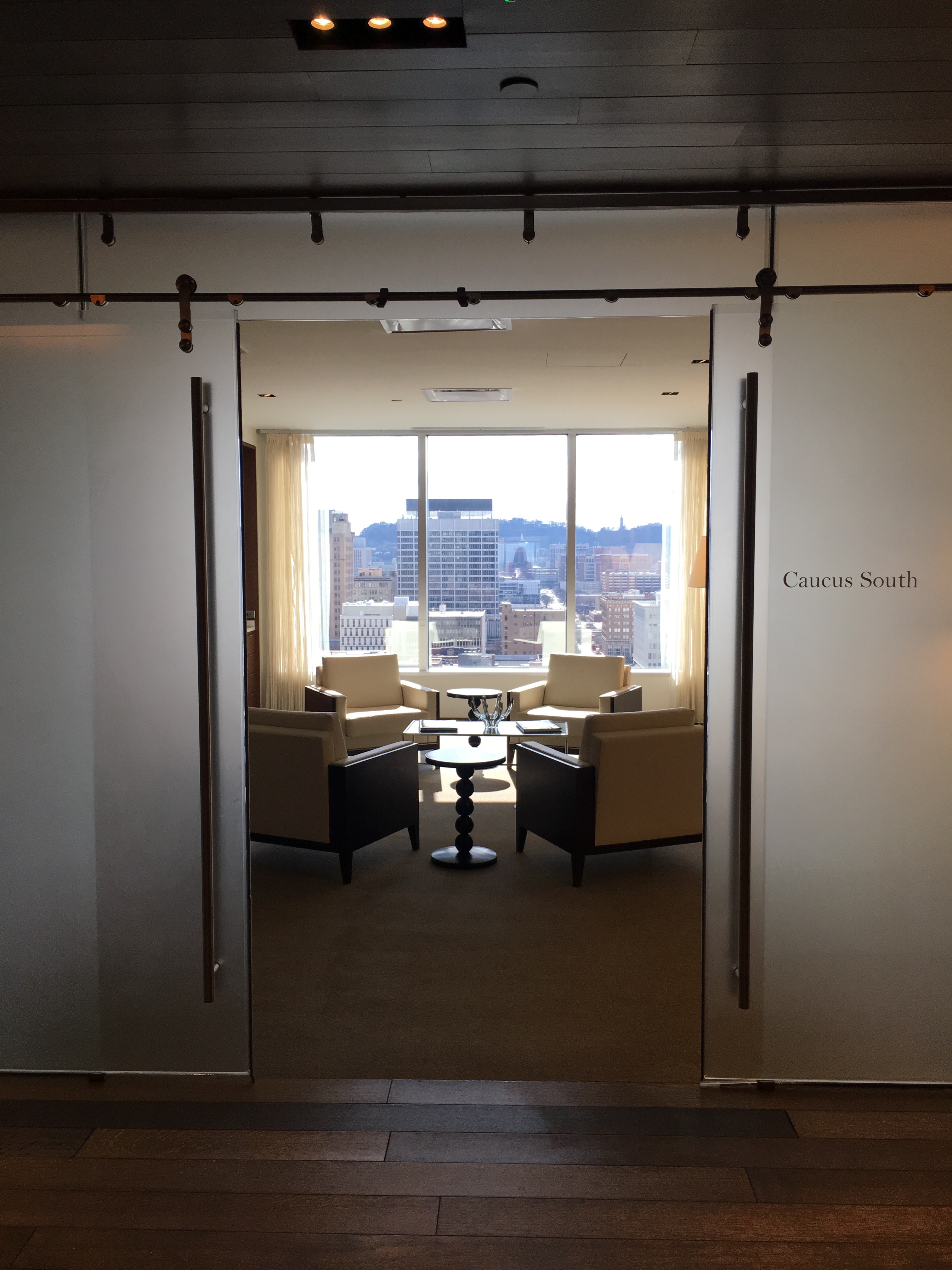 The common denominator in each of these rooms is furniture choice.  Smaller (or no) tables.  Upholstered seating.  Lighting provided by lamps and other non-overhead fixtures. And softer, more neutral color palettes.
Is this approach one you should adopt?  Where would you rather have a sensitive meeting: in a traditional wood-paneled boardroom with oil-painting adorned walls or your own living room?  Ask yourself whether your client or employee meetings would benefit from the more relaxed mood promoted by these rooms.  If you have the space, the furniture investment may be worthwhile.