It's 6:45 on a Monday night.  I am in our family kitchen checking the lasagna,  frantically tossing salads and slicing garlic bread.  The table in our dining room has been extended with a card table at one end and a folding table perpendicular to one side.  Table cloths are in place; cloth napkins and forks are at every one of the 24 seats and spare napkins and forks are stacked for any surprise guests.
The front door is unlocked because on Monday nights, our house is everyone's "home" and kids can just walk right in. Within fifteen minutes, our kitchen, living room and dining room will be full of hungry kids.  Places are being staked out at the table with cell phones and car keys.  Kids are catching up with their friends, and my husband and I are getting ready for the cattle call.
This is Family Dinner.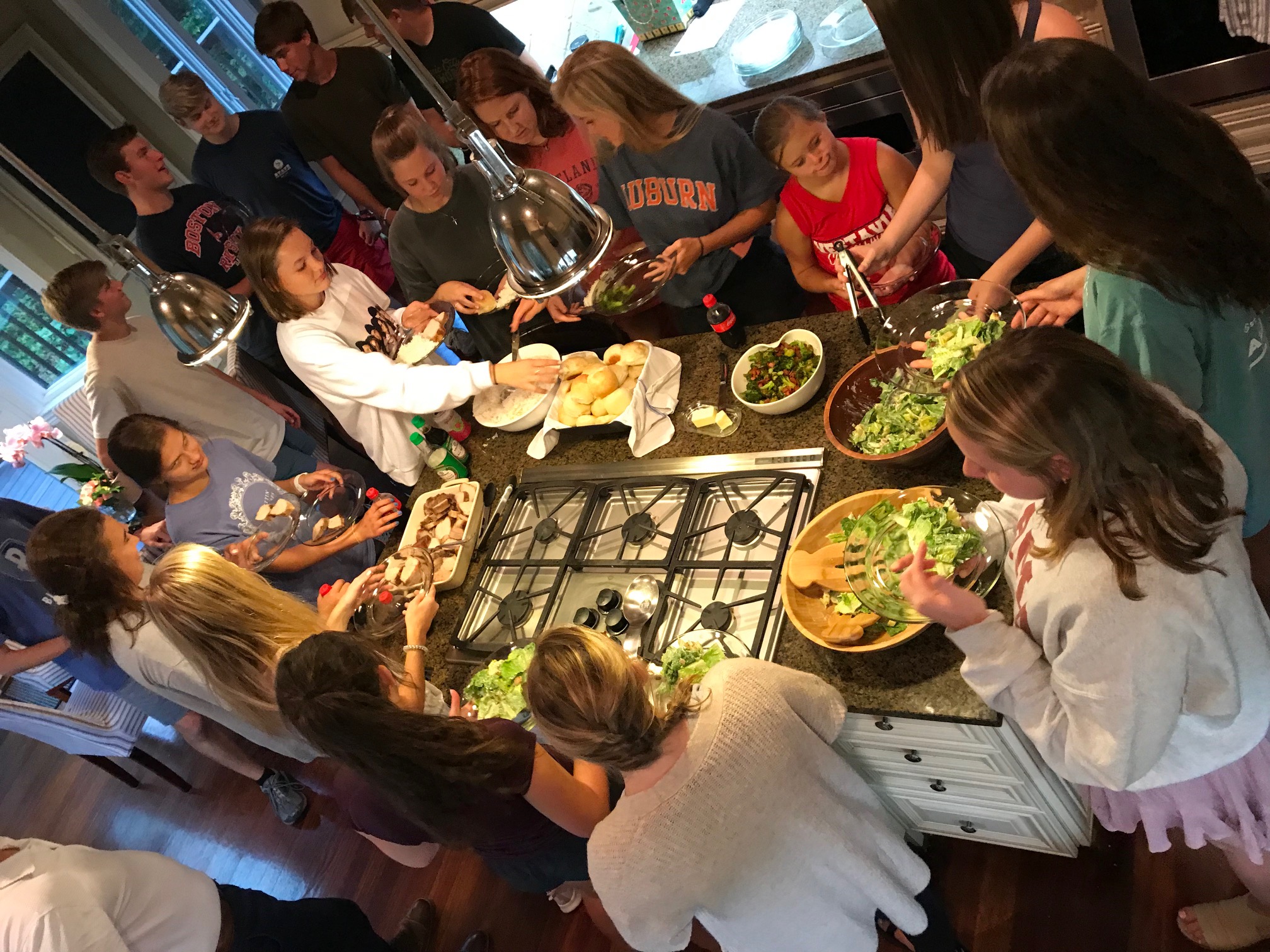 For going on four years now, my family and I have hosted dinner in our home for a gaggle of high school seniors every Monday night.  This tradition began in 2016 as a happy accident when a couple high school girls from our church came over to welcome an intern who would be living with us for the summer.  They stayed for dinner, enjoyed it, and Family Dinner was born.
The initial two girls invited two friends, who invited two friends and you know the rest.  Three months in, we were averaging 8 to 10 kids every Monday night.  As it turns out, teenagers like hanging out with a family – especially one that isn't their own.  We kept it up for the entire school year thinking it would end with graduation.  Those kids – the Family Dinner Class of 2017 – weren't having it, so we continued through the summer until they all left for college
Towards the end of that summer, the kids began insisting that we do this for the next class of seniors.  To our surprise, our kids (then in 7th and 9th grade) had come to love it as much as my husband and I did and begged us to keep going, so the family was all in for another year.
I coordinate the crazy by sending out a GroupMe every Sunday asking the kids to like the message if they're coming.  This trick gets me a headcount that is about 95% accurate.  It also makes for an interesting text trail as the year goes on and they get more comfortable with us.  (We had a whole video exchange one year when a girl couldn't figure out how to kill a spider on her ceiling.  I was DYING laughing at the kids' strategies and comments.)  And, the GroupMe conversations live on after the kids go to college –an awesome way to stay in touch.
I cook a range of dishes from scratch because I want it to feel like a traditional "family dinner" but please know that if you decide to try Family Dinner yourself, you can do it low brow and cheap and the kids will still show up and eat every bite.  In fact, I think their enjoyment of the food is inversely related to the time and expense that went into making it.
We kick everyone out by 9:30  because SLEEP.
My husband and I are "around" and, as the year goes on, the kids spend more time hanging out with us and talking to us about their problems/successes.  And, we are fortunate that many of them still come by and see us when they are home from college – even spawning "Reunion Family Dinners" during the holidays.
Other than starting my own family, this might be the single most fulfilling thing I have ever done.
Also, I have found Family Dinner translates to my career.  I have hosted numerous dinners in my home to connect clients, colleagues, and friends with each other and absolutely nothing compares to a fun relaxed dinner in your home for establishing relationships between people.
Try it.  Let's start a Family Dinner movement.